MICROSCOPE X140
HVS-CM500N
HVS-CM500P
HVS-500N
HVS-500P
HVS-CM500PC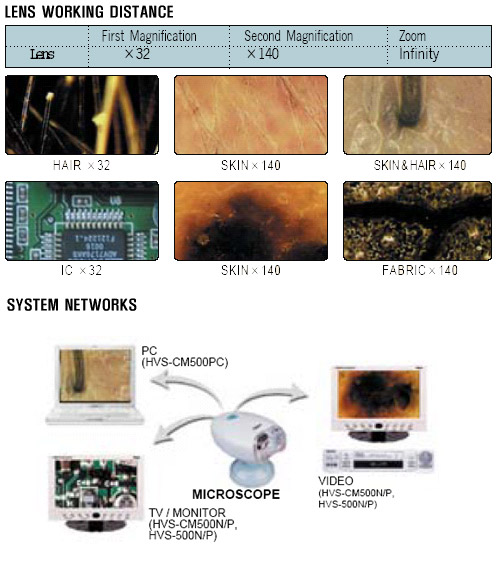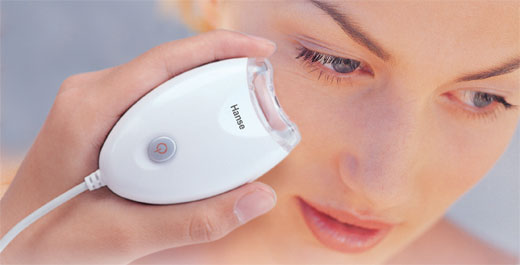 Applications

Home : skin care, study, observation something to hardly see like inside of ear and so on.

Beauty shop : check customer's skin condition to make correct diagnosis and proper treatment of hair and skin, furthermore this system raises customer¡fls confidence for treatment and easy to manage ustomers records.

Hair / Cosmetic company : Promotions for your products through comparing with competitor's items on the spot and checking skin condition immediately by visiting customer¡fls home.

School / Academy : Both students and teachers can observe objects, materials and insects on monitor immediately with 32~140 magnification in practice class.

More effective visual education tool.

This product is a multi-functional zoom camera available to various application that is more convenient to use than others with the following excellent features.

- Easy to carry with small size.
- Video mode photographing
- 32~140 magnification(it depends on the distance of objects)
- High resolution with 270K pixels(NTSC) and 310K pixels(PAL) =
- Connectable to the TV, monitor & VCR
- LED function for close photography but not applicable for a long distance
- Observing something like inside of ear that you can¡flt easily look at

HVS-CM500N/P(CMOS Type Connectable to Monitor & TV)
HVS-500N/P(CCD Type Connectable to Monitor & TV)
HVS-CM500PC(USBType Connectable to Computer)

Beauty & Skin care
Semi-conductor inspection
Education in school
Electronic components inspection



Specifications
Description
HVS-CM500N(NTSC)
HVS-CM500P(PAL)
Image Sensor
1/3" CCD, 270K pixels
1/3: CCD, 310K pixels
Sync. system
Internal Synchronization
Shutter Speed
1/60 ~ 1/15,000 sec
1/50 ~ 1/15,000 sec
Video Output
1.0Vp-p, 75ohm
S/N Ratio
48dB Min( r, Aperture, AGC correct off)
STD scene Illumination
± 18dB Min( AGC off)
Min Illumination
7Lux,(1.4, 20 IRE) , 0 Lux(with LED)
White Balance
Automatic White Balance Control
Gamma(r)
r=0.45
Connector
RCA (Video)
Power DC
5V, 50mA(Adaptor DC 5V,300mA)
Temperature
-10'C ~ 50'C
Specifications
Description
HVS-500N(NTSC)
HVS-500P(PAL)
Image Sensor
1/4" CCD, 270K pixels
1/4" CCD, 310K pixels
Sync. system
Internal Synchronization
Shutter Speed
1/60 ~ 1/100,000 sec
1/50 ~ 1/100,000 sec
Video Output
1.0Vp-p, 75ohm
S/N Ratio
48dB Min( r, Aperture, AGC correct off)
White Balance
Automatic White Balance Control
Gamma(r)
r=0.45
Connector
RCA (Video)
Power DC
5V, 200mA(Adaptor DC 5V,300mA)
Temperature
-10'C ~ 60'C
Specifications
Description
HVS-CM500PC
Image Sensor
318,000 pisels (VGA 1/3" CMOS)
Device Type
Digital Video Camera
Frame Rate
Up to 30 frames
Interface
USB Specifcation 1.1
Signal/Noise Ratio
c.56dB
Pixel Resolution
640 x 480(VGA), 320 x 240(CIF)
Exposure Control
Automatic(to+82dB)
Gain Control
Automatic(to+24dB)
USB Cable
1.5m ± 0.2
Supply Voltage
4V1~6V0 DC(Internally regulated)Through USB